Salvage Search
Need assistance?
Call 864-878-7444 or contact us for customer support.
VIN code table
(10th digit of VIN)
A

1980

B

1981

C

1982

D

1983

E

1984

F

1985

G

1986

H

1987

J

1988

K

1989
L

1990

M

1991

N

1992

P

1993

R

1994

S

1995

T

1996

V

1997

W

1998

X

1999
Y

2000

1

2001

2

2002

3

2003

4

2004

5

2005

6

2006

7

2007

8

2008

9

2009
A

2010

B

2011

C

2012

D

2013

E

2014

F

2015

G

2016

H

2017

J

2018

K

2019
Our Partners
Heavy Salvage is proud to work with world-class truck insurance and collision repair companies to offer buyers quality salvage that is processed with integrity and advertised with honesty. Here are just a few of our partners, recognized by the Better Business Bureau as A+ providers.
Carolina Casualty Insurance Company (CCIC) has provided property and casualty insurance for the trucking industry since 1952 and is licensed in every state through a network of agents and brokers specialized in transportation. As a member of W.R. Berkley's Specialty Operations, CCIC is financially strong, industry respected, and committed to customer service and fair solutions. CCIC products and services are "tailored to meet the needs of each individual." Visit their website
Founded in 1939, Canal Insurance Company focuses on commercial transportation to serve the specialty trucking market. As a leader in the industry, Canal has a network of independent agents across the nation and underwrites in 46 states. Over 70 years strong, Canal has been recognized for its steady and continual growth as well as its financial strength and stability. Canal Insurance helps you "navigate the risks of the road." Visit their website
Fleet Priority Services
Fleet Priority Services is a unique "managed repair program" that assists insurance companies and self-insured fleets with their collision losses through a nationwide network of collision and repair centers. From start to finish, Fleet Priority ensures each vehicle is professionally repaired for a fair price by a facility that specializes in the vehicle's specific collision repair needs. Fleet Priority Services is committed to the success of its customers â?? "your fleet is our priority."
Visit their website
OOIDA Truck Insurance
OOIDA Truck Insurance is a subsidiary of the Owner-Operator Independent Drivers Association (OOIDA), a service organization that provides representation for commercial truck drivers. Over 35 years in operation, OOIDA is the most experienced commercial truck insurance specialist in the country. And at the heart of its mission, OOIDA has the specific needs and interests of truck drivers in mind. Guaranteed, "no one knows more about truck insurance than OOIDA." Visit their website
Founded on a commitment to service, Great West Casualty Company has exclusively served the trucking industry for over 50 years. As a subsidiary of Old Republic International Corporation, one of the nation's largest publicly held insurance companies, Great West adheres to a strict code of ethics. And as a premiere provider, Great West's goal is to serve the trucking industry with first-hand knowledge and expertise. At Great West, "the difference is service."
Visit their website
For over 50 years, Northland Insurance has developed a proven reputation for providing services and products for the transportation industry through their extensive network of independent agents. Northland is a national leader in transportation insurance and is proud to be part of Travelers, one of the largest property and casualty insurance firms in the United States. Northland Insurance strives for "committed, competitive, superior results." Visit their website
Gramercy Insurance Company is a commercial property and casualty insurance company with operations in Atlanta and Dallas. Originally formed in 1979, Gramercy was purchased by its current owner, Benchmark Holdings Inc., in February 2000. The Company has demonstrated leadership and sustained growth in an ever-changing market for over 10 years. Visit their website
Johnson Transportation Adjusters
Located in the historic port city of Savannah, GA, Johnson Transportation has been serving the frieght transport needs of the southeast for nearly twenty-five years. If your business requires reliable, knowledgeable and competitively priced point-to-point handling of ground frieght then give them a call. Visit their website
Fairmont Specialty provides specialty niche property and casualty and accident and health insurance and surety products. Fairmont Specialty policies are underwritten by one of the Crum & Forster group of companies (rated 'A' by A.M.Best); namely, United States Fire Insurance Company, The North River Insurance Company, and Crum & Forster Indemnity Company. Visit their website

For over five decades, Transure has been fulfilling the insurance needs of the transportation trade. By specializing exclusively in the associated risks of that business, Transure is clearly the best qualified broker to recognize and respond to the exceptional demands created by a unique industry.
Visit their website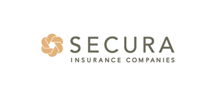 As a property and casualty insurance company, SECURA offers the products and services policyholders need to feel secure at home, work, play, and in between. We partner with independent insurance agents who can advise you on the best coverage, service, and value for your unique situation. Visit their website
Lancer Insurance Company
Lancer Insurance Company is one of the premier specialty commercial insurance companies in the United States. Our operations are nationwide and include a broad range of specialty commercial insurance products and services for: passenger transportation vehicles; small fleet and owner/operator long-haul truckers; rental vehicles; small to mid-sized commercial auto businesses; commercial explosives manufacturers, distributors, transporters, and drilling and blasting contractors; and merchant marine officers, sea pilots and tankermen. Coverages are marketed through a national network of independent insurance producers.
Visit their website
Commerce Protective
Commerce Protective has been insuring truckers since 1990. CPIC was officially incorporated in the state of Pennsylvania in September of that year. They have developed an underwriting staff that is well trained and educated about the trucking business. This enables them to assist you with all of your underwriting needs and questions throughout the underwriting process. CPIC is committed to producing timely quotes and issuing both regulatory filings and policies promptly.
Visit their website
Maxum Specialty Insurance Group
Maxum began operating as an excess and surplus lines specialty carrier, writing small- to medium-sized property and casualty business on a non-admitted basis. Today Maxum Specialty Insurance Group is comprised of Maxum Indemnity Company-a non-admitted, excess and surplus lines insurer authorized in 47 states, the District of Columbia, the territories of Puerto Rico and the U.S. Virgin Islands, and Maxum Casualty Insurance Company, an admitted insurer licensed in 48 states and both domiciled in Delaware. Visit their website
Integrity Insurance
Integrity Insurance was founded in 1933 in the state of Wisconsin. We began writing business in Minnesota in 1956 and Iowa in 1981. In 2002 they partnered with Grange Mutual Casualty Group in a unique industry affiliation. This affiliation resulted in stability, growth and a wider range of products to offer our policyholders. In 2004, the Grange Enterprise exceeded $1.0 billion in direct written premium, an impressive milestone they are very proud to share. Our A.M. Best rating continues to be "A" Excellent. Visit their website
Daily Underwriters of America (DUOA) was formed in 1978 to insure exclusively trucks under lease to Daily Express, Inc., an affiliated company. The program was so well-received that truckers not under lease to Daily Express began to seek insurance protection through DUOA. From then on, DUOA selectively began to insure independent truckers that meet their stringent underwriting guidelines. Visit their website
Gulf Atlantic Claims Service - Gulf Atlantic Claims Service is committed to delivering superior customer service with leading innovation in the heavy equipment claims industry.
American Inter-Fidelity Exchange - American Inter-Fidelity Exchange is an Indiana domiciled insurance company that specializes in serving the needs of the transportation industry. And when we say specialized we mean it. All of our products serve the trucking industry.