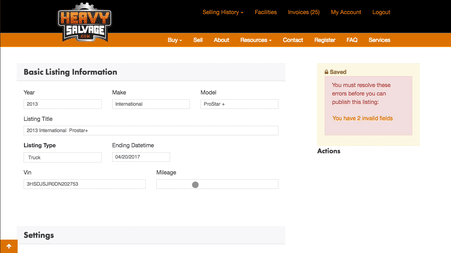 Listings is Simple
Fill out a few details about your listing and immediatedly notify thousands of potential buyers
Receive quality bids from our trusted buyers
Review Bids and Manage Listings
All your listings are stored in your selling history.
You can easily review current bids and accept or reject the bids for any of your listings
Smart filters help you get to the listings that are the most important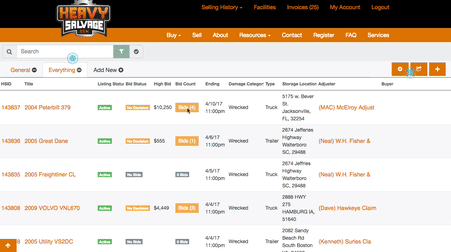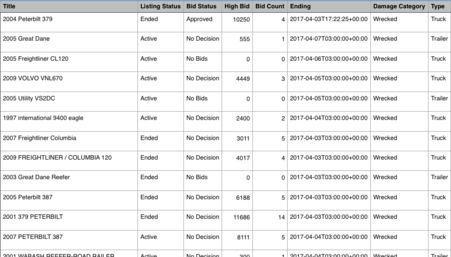 Export your data
You can export all your listing data for review and building your own reports
Hundreds of Verified Buyers are Ready to Bid
Want to see a significant claims expense savings with our easy-to-use system of processing transportation salvage? Heavy Salvage knows you need an efficient, low-cost system for selling trucks, trailers, equipment and more in one place. Whether you're an insurance adjuster or a representative from an insurance company, we believe Heavy Salvage is the best place available on the web for selling your transportation salvage. Hundreds of verified buyers are eager to bid on your salvage. Getting started with Heavy Salvage is easy:
Step One: Register
Registration is a straightforward process. We will collect basic contact information and explain our user agreement.
Step Two: Submit Listings
Heavy Salvage is the easiest-to-use salvage listing service on the internet. We've intentionally kept the process as quick as possible because we know your time is valuable.
Step Three: Collect Bids
Our bidders are registered, monitored, verified and experienced with insurance company salvage.
Step Four: Select a Winning Bid
Once bidding ends, you may select a winning bid or choose to reject all bids. If a Heavy Salvage bidder is selected, you pay nothing.
Ready to start selling? Register Now.
For more details visit our FAQ section. Feel free to contact us with additional questions.